Jurgen Klopp is confident that Liverpool's attacking style of play can result in the club winning silverware.
Klopp, who is in his third season in charge at Anfield, is still searching for his first trophy as Liverpool manager, but his side remain in this season's Champions League, while at the same time pushing for a second-place finish in the Premier League.
Liverpool have scored 105 goals in all competitions so far during 2017-18, and Klopp believes playing frontfoot, energetic football is the only feasible style of play the Merseyside club can adopt.
"All the clubs in England who signed a foreign manager knew what they would get," he said. "Liverpool needed somebody who started the development with a big thirst for being immediately successful which is quite difficult. That didn't happen, but everyone can see that the way is positive at least.
"If you win the title next year then everyone will know it was a good signing. If you want to have the most fluent offensive football and be successful then I think Pep Guardiola is a good choice to be honest. He's doing a fantastic job.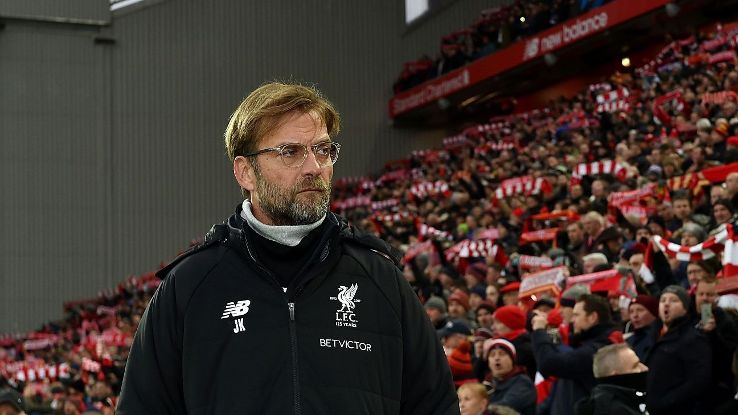 "We couldn't do any different here, nobody would accept it. If Liverpool won the league then after the season no one would ask how it happened, nobody.
"With this way there are no guarantees we will go there because of different things, but we have to convince the people first with our style of football. Playing very defensive and not being successful just doesn't work.
"We have so many fans all over the world who watch us. They have to get something if they don't get silverware at the end of the season. We know the pressure here is to win — win the next game and then the next stage to win a cup."
With Manchester City out of sight at the top of the league, Liverpool are battling Manchester United for the runners-up spot this season.
Jose Mourinho's side won both the League Cup and Europa League last term, despite finishing sixth in the league, which, Klopp feels, is a sign of the strength Liverpool's rivals possess.
"They won two titles last year," he added. "If we had won the two finals we played in my first season here everything would have settled on another level. It would have helped massively.
"It wouldn't have changed our style of play but it would have been a sign. In this moment it's always 'Liverpool are good but…' We know that. We don't live the 'but,' we live the rest. That's our situation. For us it's the only way.
"What doesn't help us we have to ignore. We just have to use the skills and the talent and attitude of the boys to be as successful as we can before we are obviously successful."
Glenn is ESPN FC's Liverpool correspondent. You can follow him on Twitter: @GlennPrice94.